Goodbye, Orchid
The Goodbye, Orchid Trilogy Book Two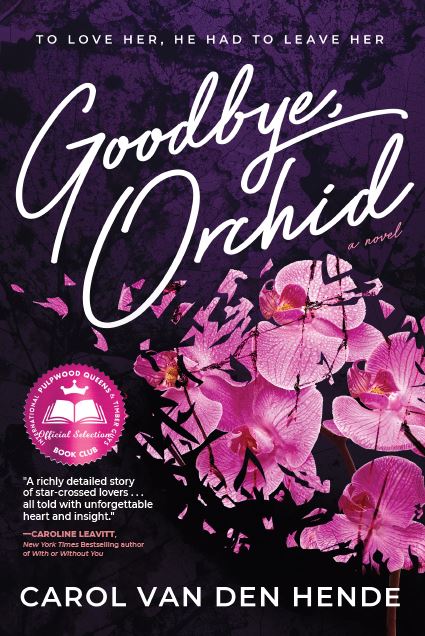 Summary
What happens when an entrepreneur suffers an accident that changes him forever and he has to decide: to love his woman, will he need to leave her?
One July morning in Manhattan, handsome athlete and entrepreneur Phoenix Walker accompanies his love, half-Asian beauty Orchid Paige, to the airport. Neither believes today is goodbye.
But soon after Orchid leaves, disaster strikes.
Phoenix wakes in the hospital, broken, forever changed.
He's longing for her, but he also remembers that she's been traumatized by witnessing the death of her parents. Now that he's the very image of trauma, he's faced with the hardest decision of his life. Does he burden the woman whose childhood makes him feel protective of her? Or does true love mean having to say Goodbye, Orchid?
Rising from ashes is hard. Leaving the one you love is harder. 
Reviews
"A richly detailed story of star-crossed lovers…all told with unforgettable heart and insight."
—Caroline Leavitt, New York Times Bestselling author of Pictures of You, Cruel Beautiful World and

With or Without You

 
"An expertly crafted novel that will tug not just on your heart strings, but on your soul."
—Karin Tanabe, author of A Hundred Suns 
"Wow what a beautiful book! It gave me all the feels in the best ways! The last line of Goodbye, Orchid…I was sobbing."
—Kristan Higgins, New York Times, USA Today, Wall Street Journal, and Publishers Weekly bestselling American author
"Goodbye Orchid is a beautiful book, full of deep, thoughtful truths as well as hard-won wisdom for its protagonists. Their individualized and honest perspectives make the journeys as surprising as they are engaging."
—Chris Kipiniak, actor, writer Marvel Comics, The Truth podcast, Co-creator BEHEMOTH
"Carol Van Den Hende has written a wonderful, heartbreaking yet heartwarming novel, perfect for our times. I couldn't put this book down and was captivated by the main character, CEO Phoenix Walker. I highly recommend reading Goodbye, Orchid, and sharing it with everyone you know."
—Michele Kessler, Chief Executive Officer at REBBL Inc.
"A human drama that traverses every emotion, Goodbye, Orchid reminded me how life can change in a second. It's a beautifully written tale about the power of true love to overcome deep-seated misbeliefs. Phoenix and Orchid's story will forever live in my heart. Highly recommend!"
—Gordana Gehlhausen, Project Runway couture designer
"The characters leapt off the page and into my heart"
—TOBIE KRAMER, Licensed Clinical Social Worker and therapist
"GOODBYE, ORCHID takes readers on an emotional roller-coaster ride, through this serious romance, layered with trauma and lost love"
– SUSAN CUSHMAN, author of Friends of the Library, and Cherry Bomb
"This novel will take you into a world of love and redemption like no other…be prepared for that breath of awe when you read the final word"
– SHIRLEY HAILSTOCK, Publisher's Weekly best-selling author
"This beautiful story shows the impact on those transformed as a result of tragedy, and the resulting hope that follows. Love heals"
– BARBARA MCNALLY, licensed physical therapist, author of Wounded Warrior: Wounded Wife and Four Faces of Femininity, Huffington Post contributor
"As a combat decorated and wounded veteran, I was truly captivated by Carol's storytelling. Phoenix Walker captures the mindset, roller-coaster and daily heroics of my experience after being injured. All around excellence"
– Doc Jacobs, Bronze Star with Valor and Purple Heart-decorated Navy Corpsman, CEO Doc Jacobs Foundation, author There and Back 
"In this most worthy novel, the protagonists' lives are shattered and they re-emerge champions, showing a true test of character. Phoenix is all of us, unconquerable until we're conquered. A tale of sacrifice and rebirth; heroism is in the details"
– SSGT Aaron Michael Grant, author of TAKING BAGHDAD: Victory in Iraq With the US Marines
"Goodbye, Orchid is a story of love, adversity, family and sacrifice. This amazing book explores how we see ourselves versus the bias of others. I loved it five stars high!"
– Nadine Vogel, CEO Springboard Global Enterprises, disability advocate, author Dive In
"Goodbye Orchid is a heart-felt, dramatic…page-turner [that] will keep readers on the edge of their seats. Phoenix is…truly a likable hero. When he falls from grace, its truly a heart-breaking experience… Orchid's character is kind, caring and determined. There are many lessons in this book; one that stands out is not prejudging others and always allowing them the opportunity to show their true colors. It's hard to fathom this is a debut novel, Goodbye Orchid has captured all the emotions, and readers will not be disappointed!"
– InD'tale Magazine, FIVE out of five stars
"An inspiring and explosive novel showing how two people confront the misperceptions in their lives"
– LARRY KIRSHBAUM, literary agent and publishing advisor
Awards
Buy the Book
As an Amazon Associate I earn from qualifying purchases