Short, concise,
fast-moving to the point
Brings great energy, ideas, and… opportunities to light for you
August 29 2022 7pm ET
Veterans Breakfast Club virtual event
Open Conversations about the Orchid Blooming prequel
September 1, 2022
Hasty Booklist
Orchid Blooming featured in Books Coming Out in September!
Featured by book reviewer Ashley Hasty, PhD
September 8, 2022 7pm ET
Adventures by the Book
Orchid Blooming Fireside chat with Susan E. McBeth
Complimentary tickets here
Please join for this virtual conversation!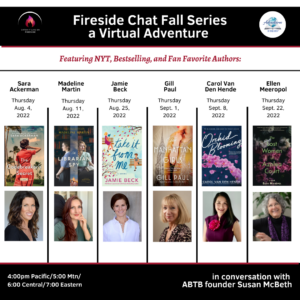 September 10, 2022, 12PM EST
Orchid Blooming launch party
1108 3rd Ave, Spring Lake, NJ 07762 (973) 436-0914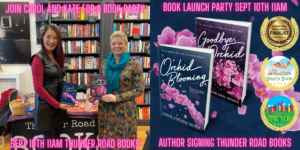 September 12, 2022, 7PM EST
Wayne Public Library
Orchid Blooming launch interview
September 21-25, 2022
Novelists' Inc. Writers' Conference
Trade Winds Island Grand Resort  St. Pete's Beach, FL
Brand Land: What is Author Brand and Why Readers Care
Millennials: Apply Generational insights to your writing
September 24, 2022 TBC
Barnes & Noble book signing (TBC)
2501 Tyrone Blvd N, St. Petersburg, FL 33710
Book signing
September 30, 2022
Bridgewater Book Club
This will be my 2nd visit with Lauren, Mairead, Annemarie, Jo Ann, Margaret, Amy, LoriAnn et al!
September – October, 2022 (TBD)
Podcasts, Interviews and more:
Rockin Book Reviews 8/10 5:30pm
KOBO Writing Life 9/6 1.30pm ET
DIYMFA podcast 9/1 3pm
Human Potential@Work 9/8 12pm
She's Invincible
Story Hour 9/8 4pm
Desideratum 8/30 6pm
Boonton Library Tea Time
Overflowing Bookshelves/Thriving Authors 9/15 4:30pm
Remembering Shanghai blog 9/13
Looking Outside
Arell's Angels FB Group 9/18 7pm
W.E.A.R Book Club author talk 9/19 5pm
Bookycall launch 8/31
WriteOn! September Spotlight
IngramSpark Beach Reads Insta
In conversation with hosts LuAnn, Rachel Wharton, Lori Walker, Debra Ruh, Kamie Lehman, Kathy Rampsberger, Theresa Bakken, Lotte Newlin, Dallas Woodburn, Claire Chao, Jo Lepore, Arell Rivers, Kimberly Bradford Scott and more!
Join me on my launch tour as we discuss extending Goodbye, Orchid into a trilogy, the good/bad/ugly in launching a B Corps (benefits corporation), and how fiction can shine a light on disability awareness. These podcasts and events are the beginning; book me for your venue and keep an eye out for more to come!
October 1, 2022 1-2pm ET
Liberty States Fiction Writers All-Day event
Edison Public Library 340 Plainfield Ave. Edison, New Jersey 08817
Marketing as Mindset: Discover Your Superpowers
October 2, 2022 1-4pm ET
Barnes & Noble Easton/Bethlehem
4445 Southmont Way, Easton,PA 18045
Goodbye, Orchid and Orchid Blooming book signing
October 7, 2022 8-11am ET
The Somerset Hills Hotel
200 Liberty Corner Road
Warren, NJ 07059
Goodbye, Orchid and Orchid Blooming book basket auction
November 5, 2022 10-11am ET
Virginia Romance Writers
Brand Land: What is Author Brand and Why Readers Care
Virtual workshop
November 15, 2022
Lake Forest IL Book Club
The lovely ladies of Chicago have invited me back, to discuss prequel Orchid Blooming 
Virtual private event
Carol's signature workshops
VIEW SAMPLE WORKSHOPS VIDEO BELOW
Brand Land: What is Author Brand and Why Readers Care
Marketing doesn't have to be daunting. In this insightful session, Carol will demystify what it means to have an author brand, how it's much more than a logo and web presence, and why it's foundationally important to do the thinking behind what you want to stand for. We'll discuss how to apply archetypes to define your unique brand and the components of an author's brand framework. We'll also walk through some real-life examples to show the importance of consistency in visual branding. 
Design as Art: 5 Principles to "SPARC" Brilliant Cover Design
Book cover design is a powerful tool to break through the clutter and communicate meaning. Learn about principles of design from a marketing professional. Find out which design elements are most important to keep consistent and why, how to start from your design objectives, and practice assessing design within the right context.
Carol will teach five truths to "SPARC" great design, and share how she applied them to award-winning Goodbye, Orchid.
Truth One: Simplicity breaks through, so don't stuff everything onto the cover. Focus!
Truth Two: Prioritize your communications hierarchy.
Truth Three: Assess designs against the brief, not personal taste.
Truth Four: Real-life…assess design in situ.
Truth Five: Consistency, consistency, consistency.
Carol used these principles on her novel Goodbye Orchid, which won the Royal Dragonfly Award for Best Cover Design (one of nine awards). Her insights on book cover design have been featured in Pen to Print, Creative Indie, and the Writescast podcast.
Craft Marketing Plans like an Author-preneur
Marketing is the art and science of finding and connecting with your audience. In this hands-on session, Carol will demystify how professional marketers devise marketing plans. As with most success, it starts with setting quantifiable objectives. Carol will cover five principles, along with examples and how to apply them to your book launch:
Readers have options, so authors need to relentlessly pursue a near perfect product

Entrepreneurs recruit more promoters than detractors

Reach then convert

Plan early; then test, learn and adjust

Marketing is an act of creativity. Approach with an open mindset
Millennials: Apply Generational insights to your writing
Millennials are the largest generation in the US. Find out how they're defined and insights that can help you write Millennial characters. This session is for you if you've ever wondered what events have shaped this cohort, how they're affected by the weight of college debt, how they're the most technologically-dependent and diverse generation, and how they're still fighting the "me, me, me" stereotype. Come to this hands-on workshop to discover insights to help you write authentic characters from this important generation.
Marketing as Mindset: Discover your superpowers
To market your work, you need an author brand, visual identity and well-crafted marketing plans. After the hard work of writing a book, why do these marketing tasks seem daunting? Come to this workshop to learn from 20+ years of marketing and strategy experience. Find out why marketing isn't manipulation. Overcome the most common marketing blockers using four simple mindset shifts. Join us to experience why one author said after Carol's workshop: "You inspire me and fire me up every time. I can't wait to market my book and my why!"